PASTICHENYC AND THE MOUNT present THE HOUSE OF MIRTH SONG CYCLE
The tragedy of the most beautiful girl in Gilded Age New York is Edith Wharton's revenge!
May 11, 2023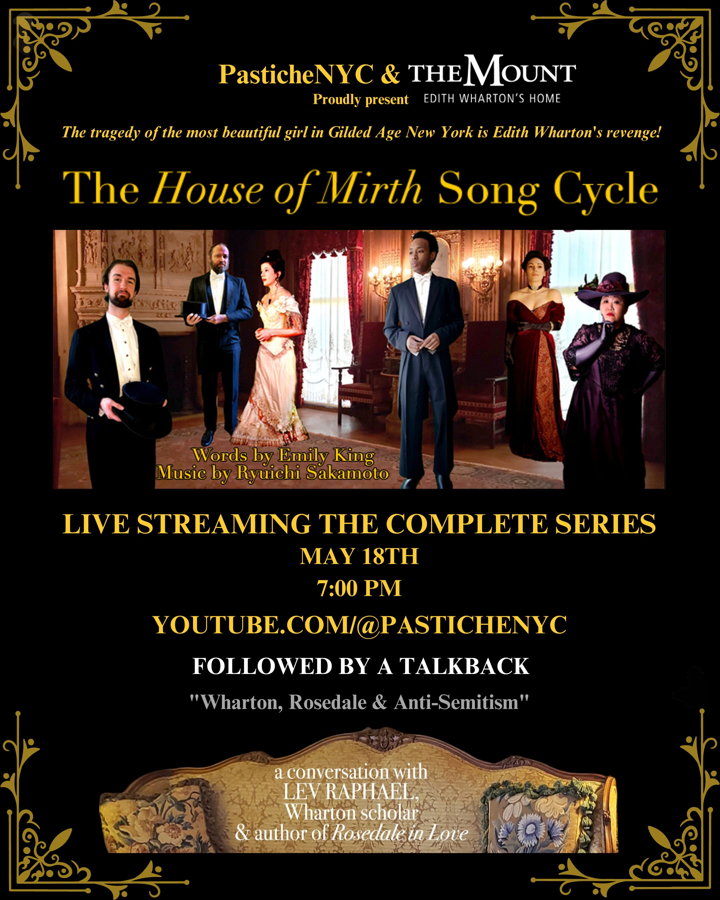 PASTICHENYC ​
​AND THE MOUNT
​Proudly present
THE HOUSE OF MIRTH SONG CYCLE
​
The tragedy of the most beautiful girl in Gilded Age New York is Edith Wharton's revenge!
LIVE STREAMING THE COMPLETE SERIES ON MAY 18TH ​
​7:00 PM
FOLLOWED BY A TALKBACK "WHARTON, ROSEDALE, AND ANTI-SEMITISM" WITH CREATOR EMILY KING AND WHARTON SCHOLAR & AUTHOR OF "ROSEDALE IN LOVE" LEV RAPHAEL
PASTICHENYC and The Mount, Edith Wharton's Home, are pleased to present a special event which includes the complete series of Edith Wharton's The House of Mirth Song Cycle, written and directed by Emily King plus a talkback "Wharton, Rosedale, and Anti-Semitism" with King and Wharton Scholar Lev Raphael. ​ The event will live streamon Thursday, May 18th at 7:00 pm. ​ You can watch it for FREE on both the PasticheNYC YouTube or ​ The Mount..
Despite being published in 1905 The House of Mirth remains a powerful and relevant work that offers a penetrating critique of the social and cultural norms that continue to shape our lives today. Inspired by the recently deceased Oscar-winning composer Ryuichi Sakamoto's (Merry Christmas Mr. Lawrence, The Last Emperor) solo piano album BTTB, the streaming video brings the complexities of New York's Gilded Age to an international audience. Conceived as a period fancy-dress concert version with piano accompaniment and nine classically trained singers, the diverse cast of socially distanced performers embodies the modern sensibility that race is to the modern audience what class was to Wharton's Gilded Age.
Edith Wharton's House of Mirth, set in New York City during the early 1900s, follows the life of Lily Bart, a beautiful but impoverished young woman trying to maintain her social position in upper-class society. Lily is torn between her desire for a luxurious lifestyle and her moral values, which prevent her from marrying for money. She is trapped in a society that values wealth and social status above all else, and she struggles to find a suitable husband who can provide for her without compromising her principles.
Lily makes a series of poor decisions that lead to her social downfall, including taking on debt to maintain her appearance with a loan from a married man who demands payment in sexual favors. Despite her best efforts to be true to herself, she is eventually ostracized by her social circle and fails to make a living even through menial labor.
House of Mirth is a scathing critique of the New York social elite during the early 1900s, and Wharton uses Lily's story to expose the hypocrisy, duplicity, and superficiality of the upper class. The story examines the intersection of wealth, social status, and morality in a way that is still relevant. The pressure to conform to societal norms and expectations, particularly in relation to financial success and social mobility, as it crushes genuine human feelings, is something with which audiences can empathize.
Wharton is also using Lily to powerfully critique patriarchal structures that continue to shape society. ​ Lily is confined by the lack of opportunities available to women, the pressure to marry for financial security, and the way in which women are objectified and exploited by men, themes that are still relevant today. ​ She continues to make bad decisions because she cannot break free of the structures that shape her society, and ours.
"Thanks to the confluence of talent, beauty, CoVid, and technology, the new artform we call Pastiche has brought beautifully costumed, uniquely talented actor/singers recording in their homes to a background of actual gorgeous backgrounds from New York's Gilded Age," explains King. "Edith Wharton's bittersweet tale of the most beautiful woman in New York's fall from society's good graces is told in 10 songs based on the haunting piano works of Ryuichi Sakamoto, award-winning (Oscar, Golden Globe, Grammy, and BAFTA) film composer. The young, diverse and exceptionally talented cast, supported by supremely talented Israeli pianist Shai Zohar, bring Wharton's story to life, transcending the page, and bringing her work to a whole new generation, now facing their own troubling future."
Addressing some of the troubling issues of Gilded Age literature, PasticheNYC has invited Wharton scholar Dr. Lev Raphael, author of the popular fan fiction character expansion, Rosedale in Love, to a talkback after the complete show to discuss with adapter/lyricist Emily King the delicate subject of portraying anti-Semitism in The House of Mirth.
The production stars Carey Blackburn (Mystic Pizza, NYC) as Lily Bart, Yannik Encarnação (Joseph in Joseph & the Amazing Technicolor Dreamcoat) as Percy Gryce, Sean Gregory (Metropolitan Opera Actors Company) as Simon Rosedale, Teresa Hui (The Big Bang Theory, Off-Broadway) as Bertha Dorset, Robert M. Johanson (Member: The Civilians, Elevator Repair Service, Obie Award 2013, Special Citation: Life and Times 1-4) as Gus Trenor, Emily King (Broadway, Kennedy Center, West End, and Royal Opera House) as Edith Wharton, Mary Jo Mace (Member: I Cantori) as Aunt Peniston, Joseph Parrish (Winner, New York's 2022 Young Concert Artists Audition) as Lawrence Selden, ​ and Rebecca Lee Whitcomb (Beauty & The Beast, Grease) as Judy Trenor.
The production features lyrics by Emily King (2021 Roy Cockrum Foundation Grant, Rockland Festival of the Arts), music supervision and sound editing by Emily Duncan. ​ The pianist is the award-winning Shai Zohar. The video editors are Tony Tom and Kyle Feldman.
The videos are available at youtube.com/@pastichenyc. ​ Find PasticheNYC on social media @pasticheNYC.
House of Mirth run time is 51 minutes
PasticheNYC is a proud member of Fractured Atlas, A.R.T./New York, Women in Media, Jane Austen Society of North America, National & NY branch
EMILY KING (Lyricist/Director) worked for many years as a writer and editor in the recording industry for RCA Victor and Sony Classics, assisting in recording more than 20 Broadway Cast albums and working with some of the great contemporary lyricists. She is a published translator of French, German, and Italian texts (Chérubin, Roméo et Juliette, William Tell) and subtitles (Tosca, Turandot). She was also happy to act as a new submissions reader at Manhattan Theater Club for Musical heater Developmental Director Clifford Lee Johnson III.
She directed some 20 original Off-Off Broadway plays and musicals and wrote or adapted and directed Bridie Now and Then, The Hero of the Slocum, Grace Under Pressure, Paris Malice, and an on-site, full-length version of Maxwell Anderson and Arthur Schwartz's High Tor. Almost all of her own theatrical work has had a musical through-line, starting with Fighting Words, in which an aging insomniac Dorothy Parker justifies her life through her writing to her imaginary obituary writer, interlaced with early songs by George and Ira Gershwin. In the opera world, she was assistant director for the Glimmerglass production of Così fan tutte, and put together thematically-linked opera scene evenings for Mannes and new operatic works for Manhattan School of Music. More recently Ms. King has completed song cycles for staged concerts, writing lyrics adapting Edith Wharton's House of Mirth to music by Ryuichi Sakamoto, and Jane Austen's Persuasion, set to chamber music by Ludwig Van Beethoven.
In developing PasticheNYC, she created new ways to recruit first-rate performers and great music – and the infinitude of visuals, and sound available in the new technology – to bring new life to Jane Austen's Persuasion, Edith Wharton's House of Mirth, and now her own original musical radio series, Grace Under Pressure, in an age of uncertainty, isolation, and hunger for beauty. New technology and CoVid lockdown led her to develop what may be an entirely new art form from influences as old as magic lantern slideshows and the patchwork quilt: Pastiche! AEA, BMI, UFT.
LEV RAPHAEL is the author and co-author of 26 books in a dozen genres, Lev Raphael was is the son of Holocaust survivors and a pioneer in writing about the Second Generation. Deborah Dash Moore, former head of Judaic Studies at the University of Michigan, calls him "a leading figure in American-Jewish Literature." ​
His first book of short stories Dancing on Tisha B'Av won a Lambda Literary Award and his work has been translated into fifteen languages. Michigan State University's Special Collections purchased his literary papers in 2009 and updates "The Lev Raphael Papers" yearly.
Raphael has published hundreds of stories, essays, articles and book reviews in a wide range of newspapers, magazines and journals in the U.S. and abroad. He's won Amelia's Reed Smith Fiction Prize, and International Quarterly's Crossing Boundaries Prize for Innovative Prose, awarded by novelist D.M. Thomas. ​ That essay appears in his memoir collection Writing a Jewish Life.
Raphael earned an MFA in English and Creative Writing at the University of Massachusetts/Amherst where he won the Harvey Swados Fiction Prize for a story later published in Redbook. He also holds a PhD in English from Michigan State University, where he's taught Jewish-American Literature, Popular Literature, Gilded Age Fiction, and Creative Writing as a visiting assistant professor of English and affiliate faculty member of Jewish Studies.
His fiction and essays have been widely anthologized and are taught at colleges and universities in the U.S. and Canada. Raphael's fiction has also been analyzed in scholarly journals, books, and conferences like MLA. Raphael was a long-time reviewer for the Detroit Free Press, the Washington Post and other papers. ​ He also reviewed on Michigan Radio and hosted his own book show on Lansing Public Radio, where his guests included authors like Salman Rushdie and Erica Jong.
Raphael has done several hundred invited talks and readings across North America and in Scotland, England, France, Germany, Austria, Italy, and Israel. ​ He's appeared at Hillels, JCCs, colleges, universities, writing conferences, synagogues and churches, Jewish Book Fairs, museums and libraries including the Library of Congress and the Jewish Museum in Berlin. Featured in two documentaries, he's keynoted several international Holocaust conferences.
His author website is http://www.levraphael.com and his creative writing workshop website is http://www.writewithouborders.com.
THE MOUNT is a National Historic Landmark and cultural center in Lenox, MA, dedicated to the intellectual, artistic, and humanitarian legacy of author Edith Wharton (1862-1937). Completed in 1902, the property includes the main house, stable, greenhouse, and formal gardens. Wharton considered The Mount her "first real home," the only one she built and designed. After she moved to Europe, she acknowledged "its blessed influence still lives in me." In season, there are guided and self-guided tours of the Main House. The grounds are free to enjoy throughout the year. Check edithwharton.org for lectures, readings, sculpture walks, and more.
PASTICHENYC LLC was founded in 2020 to create exciting new performances based on classical literature and music, with a diverse cast of singers and actors, blending vintage images and music in modern media. Bringing the classics to a new generation in a new century, PasticheNYC used cyber-technology to safely record and edit the work of artists and musicians dispersed in the CoVid-19 pandemic, and to stream it to the world.
# ​ ​ ​ ​ # ​ ​ ​ ​ #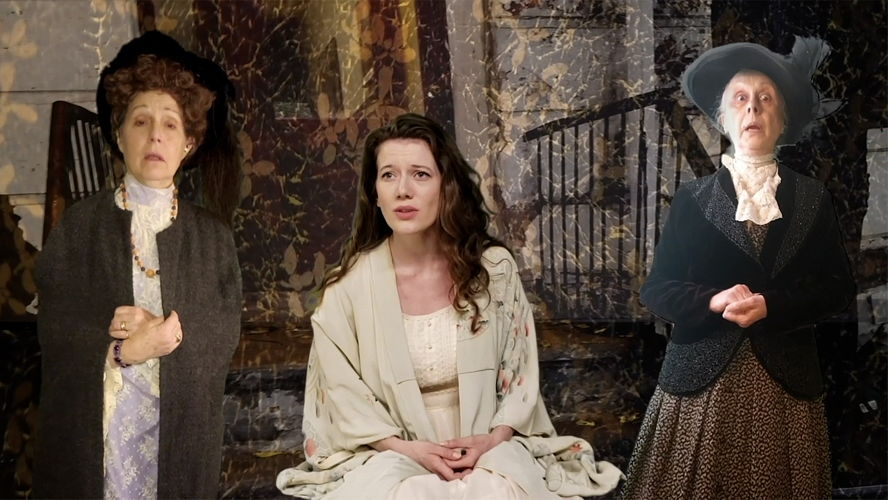 —